In Florida Senez is flat roofing!
When it comes to flat roofing, Senez is your best choice in Florida! Senez has decades of experience in installing and replacing flat roofing on both residential and commercial buildings. Whether you need a flat roof for the porch on your home or you need a large flat roof for a factory or large facility, Senez can do the job.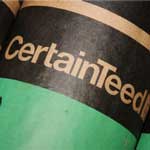 For most flat roof applications, Senez uses high-quality, weather-resistant, durable, CertainTeed Flintlastic SA Cap.
CertainTeed Flintlastic SA roofing membrane is a premium, self-adhering SBS modified bitumen roll roofing material suitable for use in accordance with CertainTeed specifications for most low-slope roof system applications.
Flintlastic SA Cap is available in 6 colors including white. The white Flintlastic SA Cap is an approved ENERGY STAR® product for slopes greater than 2″/12″.
Our Flintlastic SA roof system may qualify for an energy tax credit of up to $500 under the Tax Relief, Unemployment Insurance Reauthorization and Job Creation Act of 2010. Check with your tax professional for more information.