Our customers send us nice notes!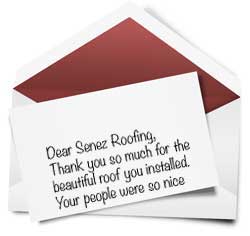 We love to hear from our customers! Here are a few of the notes our customers have sent to us.
I just wanted to express my sincere thanks to you and let you know how ecstatic I am about my new roof! I've only had it about a month but I can't tell you how safe and secure it feels to have a roof that no longer leaks. From the phone call to the finished product, you and your crew did an exceptional job with every aspect of the process. I am very confident I chose the best roofing company! I will certainly recommend you highly to anyone who needs a new roof! Thanks again.
-Amy Markham
I am writing to commend you and your staff for the quality and timely job of replacing my roof. I was astounded that squirrels could do so much damage by eating the lead boots over the plumbing vents. Everyone in your firm that we encountered treated us well and always responded to our needs. We will never hesitate to recommend your firm to our neighbors and friends here in Carrington Park of Heathrow. Our first call to you (we picked your firm from the yellow pages because it included an address and because you have been in business here for many years) on October 27 and the job was completed on November 15. Your help in dealing with the insurance company's engineers was much appreciated and we have an equitable settlement with them.
Thanks so much.
Very truly yours,
-Norman H., Lake Mary, FL
That's a great job your guys are doing on the Breezewood Condo's. I sold my house last year and bought a condo there.
-Diana K.
I was extremely impressed with the service Ed Senez Roofing provided. Not only did they do a great job installing the roof, but they did it with minimal inconvenience, on time, and with no left-over mess. When it came time to replace the old roof on my rental property, I didn't even waste time calling the competition – I contracted with Ed Senez Roofing with absolutely no hesitation. They're the best, hands down!
-Richard B.
Thank you so much for coming out so quickly to do the roof at no charge, up front. We did not expect it, we appreciate the fact that you expected nothing but came out and did it in a fast, courteous manner. Thank You!
Thank you so very much for coming and doing your job with a friendly, kind, professional manner. Thank you so much.
-The Childs Family
Thank you, thank you, thank you for the best roof! We love it, your company is the most professional and courteous we have ever worked with. We would have waited a year just to have you installl our beautiful roof. Many of the neighbors who didn't sign with you are enraged.
What a fantastic crew you have as well. We have never seen such systematic teamwork. You should be really proud of your installer crew. I could go on and on, but I will tell you one more – the county inspector said "That was the best roof he had been on, and that we should be thankful." We are!
-Dan B.
I just wanted to say Thank You!
I'm so appreciative for all the help your company provided. Everyone was pleasant and professional. Having my new roof installed was an "easy" experience, and you all did a great job!
Again, Thank You
-Stacey N.
Thank you for your excellent service! Please also tell your team that I am very happy about their good and trustful communication. Special thanks to Ernie and I like very much how he helped me.
Best regards,
-Werner K.
Words cannot express my thanks to you for my new roof! My compliments to you for the excellent job, along with the immaculate clean-up within a day. My special thanks to your son, Isaac, who when the damage occurred, assisted me to prevent any further damage to our home and to remain in contact with the insurance company to resolve the situation. That was truly appreciated as my husband was critically ill at that time. Thus, he removed this additional burden from me. It is rare these days in the business world to find a corporation who excels in their work and are also "human beings" Once again, my many thanks.
P. S. I have had several people stop and ask "What company did my roof?"!
-Margaret R.