News & Updates

Learn about your roof
October 19, 2018
Your roof protects everything else!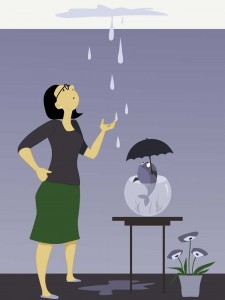 Your roof is one of the most critically important structures in your home. A damaged or poorly-maintained roof can permit water seepage and lead to expensive damage to the structure of your house.
Don't wait until it's too late!
Fortunately you can spend less than an hour – a few times a year – to assure that your roof is in in tip-top condition.
7 roof maintenance tips
Clean any debris, leaves, branches, moss and algae from your roof. If allowed to remain, this type of debris can soak up water and stay wet. Wet debris can eventually damage shingles underneath. Also, your roof is designed to channel water away and excess debris can inhibit this process. Make sure to check for debris on a regular basis.
Check your flashings for corrosion or damage. Problems with your flashing can allow water to rot the wood underneath. Also check for any mold or mildew and remove it.
Check your downspouts and gutters for debris or blockage. Blockage can cause water to back up and can damage your gutters.
Check any caulking or sealants around your roof for cracking or peeling. Old caulking and sealants should be replaced before water seepage has a chance to do serious damage to your home.
Look for loose or broken shingles. Fallen tree branches and other debris can damage shingles and allow water seepage. Make sure to have loose or damaged shingles replaced as quickly as possible.
Check the efficiency of your attic ventilation and insulation. Poor attic circulation can encourage mold and mildew along with structural damage.
Check for tree branches that touch your roof or could brush against your roof when the wind blows. These branches can do major damage to asphalt shingles, especially during windy weather.
How often?
Make sure to inspect your roof at least quarterly. Also, carefully check your roof for damage after any storm with heavy winds.
When to get help
If you find damage or you are unsure about anything you find, make sure to call a roofing professional. Remember, roof damage that isn't repaired can quickly lead to expensive structural damage to your home.
Call Senez if you need help
Ed Senez Roofing is always happy to answer your questions about roof maintenance. Do you need a roof inspection or repairs for your damaged roof? Ed Senez Roofing professionals are always happy to help you.
May 13, 2018
Should my roof be repaired or replaced?
The danger signals to look for
Can your roof problem be repaired or does your entire roof need to be replaced?
Look carefully for the following signs of a failing roof, like:
A leak in the attic after wind-driven rain or ice build-up
Blistering and peeling of interior and/or exterior paint
Stains, mold, or mildew growth on interior ceilings and walls
Decay of exterior sheathing and/or exterior siding
Missing, cracked, or curled roof shingles
How To Inspect For Damage
It is a good idea to inspect your roof regularly, particularly if you live in areas of the country that experience extreme weather. Florida's blistering summer sun, high humidity, severe thunderstorms and occasional hurricanes certainly qualify as extreme. You can inspect your roof yourself, either by climbing on your roof or by using quality binoculars from the ground.
If you choose to go up on the roof yourself, remember to always utilize proper safety equipment to prevent falls or injury. If you don't feel comfortable walking on the roof, leave the task to a roofing professional.
Here are just some of the ways to inspect for damage:
Check flashing for damage or for inadequate coverage
Look under eaves and overhangs for damage that might mean water leakage
Examine shingles for any that are missing, cracked, curled, torn, or warped
Look for any open seams or joints that could lead to leaking
Look for popped or rusted nails, or stains around nails
Check for unevenness, sagging, or unsound areas
Inspect your sources of roof ventilation. Are the vents clogged? Is there adequate ventilation?
Inspect gutters for sagging, signs of leaks, and accumulation of granules
Check for dark patches or growth
Check around pipes and roof penetrations to make sure they are sealed and in good shape
Look inside the attic for signs of leaks, dark spots, holes, or sagging sheathing
If you are uncomfortable with the idea of walking around on your roof, the safest and most thorough option is to contact a professional roofing contractor to do the inspection. Ed Senez Roofing offers a professional inspection and evaluation free of charge.
December 1, 2016
Should I use batt or blown-in attic insulation?
Are you thinking about adding insulation to your attic to save energy costs? Should you use batt (paper-backed) insulation or blown-in (loose-fill) insulation? This article will answer your question.
The U. S. Department of Energy has some very useful information about this subject. According to the Department of Energy, blown-in insulation is not only less expensive than batt, it provides a better thermal barrier than paper-backed batt insulation.
Batting is typically a thick fiberglass matt that is attached to a heavy brown paper backing. The batting is supplied in rolls. The installer must precisely measure the space between wood attic joists. The installer then precisely cuts the paper-backed insulation batt to fit the space. The fiberglass must fit precisely against the wood joists to avoid gaps that can cause thermal loss. Small gaps can cause large thermal losses. Just like tiny gaps below a door or ill-fitting windows, small gaps can add up to make your air conditioning system run overtime.
Blown-in insulation has the advantage of filling every nook and cranny between your attic joists.
Blown-in insulation has another advantage. Typically, blown-in insulation is less expensive to install than batt insulation.