News & Updates

Company news
April 23, 2015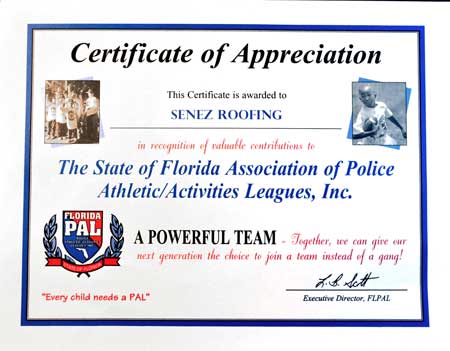 Ed Senez Roofing proudly supports the Florida Police Athletic/Activities League. The Police Athletic League is a non-profit organization that provides athletic and academic activities for children and young adults. These activities are administered by sworn Law Enforcement Officers. This program gives thousands of children character-building activities to keep them off the streets and on the road to success. The program offers after school programs, summer camps, and an annual youth conference.
Established in 1983, the Florida Police Athletic/Activities League is composed of 55 community chapters located throughout the State of Florida. These local chapters serve the children within the local communities and provide an avenue of communications between law enforcement officers and the community.
December 19, 2014
A note from Debary
We always enjoy hearing from our customers! Amy Markham in Debary Florida sent us this nice note recently. Thanks for taking the time to write to us, Amy!